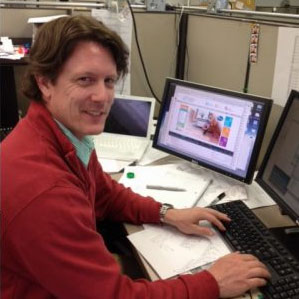 VP of Operations
Brad joined BoxInBoxOut in 2013 as IT Director, with primary responsibilities of keeping systems and servers up and running, along with ensuring successful and accurate data flows, both within BoxInBoxOut's internal systems as well as to and from our clients' diverse range of information systems. Brad is fluent in HTML, PHP, SQL, and XML, and has a working familiarity with JSON, MongoDB, and CSS.
Prior to joining BoxInBoxOut, Brad was the Senior Content Manager for the U.S. Postal Service's online storefront since 2007, following a seven-year stint as a MySQL/PHP consultant for a variety of publishing and ecommerce groups, and five years as the lead systems and operations manager for a Charlottesville publisher.
Brad studied Magazine Writing & Editing at the University of Missouri's School of Journalism, and has enjoyed using his love of soccer and music, nurtured as a young man in suburban St. Louis, MO, to help feel at home where-ever work took him.
His 20 years experience has included two stops each now in New York City and Charlottesville, along with intermediate stations in Paris, and Washington, DC. He and his wife, Julie, and their two boys call Charlottesville, VA home.