The following post is from the F. Curtis Barry Company's blog (www.fcbco.com/blog). It does a good job of summarizing the potential advantages of using a Third Party Logistics Company like Box In Box Out.
We just completed a project to compare third party logistics (3PL) services and costs to expanding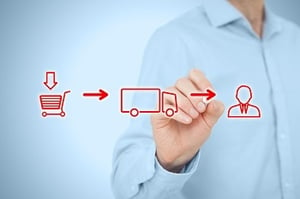 a company's fulfillment operation. Here are 10 ways and the profitable benefits that our clients have seen by using 3PL.
1. Provides a lower cost per order when compared to internally managed operations. This isn't always true but it can be for small to moderate sized companies.
2. Allows your company to concentrate management time on marketing and merchandising your products and not having to manage your operations and fulfillment. One client has used third party logistics since 1988.
3. Scale to peak. During the holiday season, some clients have 10:1 order ratio (peak to average week). Using a 3PL allows them to ramp up successfully during the 60 days at peak without hiring staff and having greater internal capacity.
4. Avoid capital investment in fulfillment facilities, an order management system, telephone technology and website platforms. This lets you use capital to grow the business in other ways.
5. Provide distribution across the country so that you can get packages to a high percentage of customers within 1 day by ground. Many larger third party logistics companies have strategically placed facilities across the country that make this a reality.
6. Perform inbound bulk processing and distribution. For retailers using rail services, one client uses 3PL to offload product from railcars, break bulk shipments and distribute to their 1,000+ stores.
7. Process inbound receipts at a port and distribution to stores. This is often common place with larger retailers.
8. Distribution of international orders. Direct companies use third party logistics partners to serve the EU and Asia.
9. Brick & mortar retailers contract with 3PL partners to ship direct orders from their ecommerce marketplaces rather than bring this into their DCs.
10. Managing transportation, some merchandise storage and cross docking to stores. One large retail organization contracted with a 3PL for services to distribute from East and West Coast centers rather than continuing distribution from its own outdated facilities.
The use of third party logistics isn't for everyone. We feel it is a cost effective strategy that should be considered as you expand your direct and retail distribution.
http://www.fcbco.com/blog