Our Talented Account Managers
Our Talented Account Managers
BoxInBoxOut is very proud of our experienced, customer-oriented account managers, who are pictured below.
Each BoxInBoxOut client is assigned to a specific account manager, who handles many aspects of the client's relationship with us. Our managers are often physically involved in the pick, pack and ship functions for their accounts, and they know their clients' product lines and requirements inside out. Account managers typically handle 3- 6 clients, depending on size and complexity.
Our clients also have the option of having a dedicated account manager on our premises, and two of our clients have chosen to go this route. In these cases, the dedicated managers have taken on functions that would otherwise be handled by the client's own associates. These functions can include telephone sales, customer service, ordering supplies, QuickBooks maintenance, etc.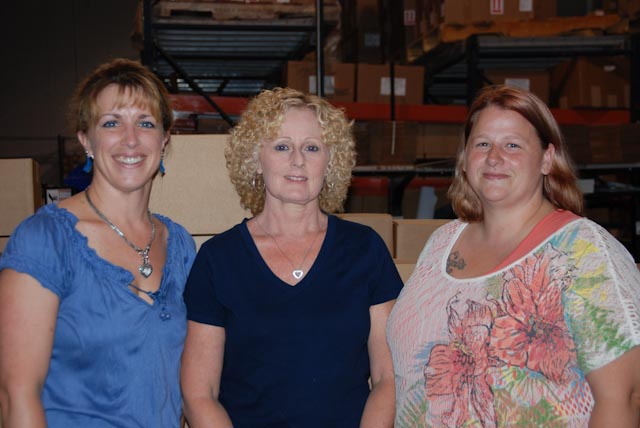 From left to right: Robyn Taylor, Robin Marston, and Wendy Ross
Robyn Taylor, Account Manager
Robyn is in her second year as an account manager for BoxInBoxOut. Previously, Robyn worked for 10 years at Plow & Hearth, a national catalog and on-line retailer. For 5 of those years she managed all aspects of the direct to consumer drop-ship program with P&H's many drop-ship vendors. Robyn also worked for 2 years as a tasting room manager for a local winery.
Robin Marston, Account Manager and Assistant Operations Manager
Robin has worked as an account manager with BoxInBoxOut for over 10 years. Robin has worked with an incredibly diverse number of product categories, from cosmetics to modern furniture and from books to audio equipment. Robin also worked for 6 years as an executive assistant for a Virginia winery and equestrian company.
Wendy Ross, Account Manager
Wendy is in her second year as an account manager and spends most of her time as a dedicated manager for one of BoxInBoxOut largest accounts. This client sells a diverse line of products, from expensive Italian lighting and ceiling fans to fun and practical, high design products for the home. Wendy also came to us from Plow & Hearth where she worked for five years in receiving and pick/pack/ship.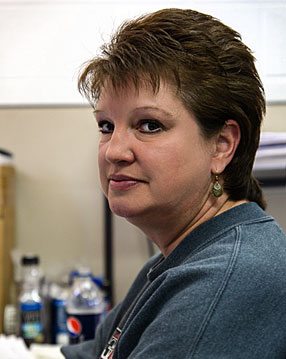 Lynne Blankenship
Lynne Blankenship, Dedicated Account Manager
Lynne has been a dedicated account manager for one of our clients for 4 years. As such she works directly with our client's sales organization and with its many retail accounts. She also assures inventory and supplies are ordered in a timely fashion, enters all sales orders in our customer's QuickBooks account, and manages all aspects of the kitting and production operation. Lynne was at Plow & Hearth for 15 years where she worked in purchasing, as an assistant to the VP of Operations, and in the benefits and payroll areas.